What is SEAOF?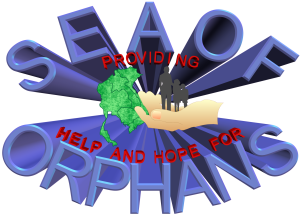 SEAOF or South East Asian Orphan Foundation is a Christian organization rooted in Biblical principles whose only reason for existence is to meet the multitude of needs among the multitude of orphans in Vietnam and the surrounding area. SEAOF was born out of a vision for a creative solution to a very unique need. Orphans are needy the world over, but the orphans in South East Asia face a special set of problems. SEAOF is totally committed to meet the challenge.
Where in the World? - The Cultural Difficulties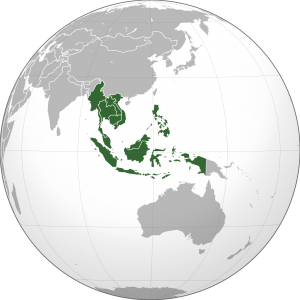 This orphanage program is especially designed to work in the framework of the far eastern culture of Vietnam and the surrounding countries. In South East Asia family is very important in a way not easily understood in western culture. The loss of or abandonment by father and mother nearly dooms a child to a future of poverty, rejection, and an inability to assimilate into productive society. A traditional orphanage where many orphans are housed, educated, and provided for in one facility, while never ideal, is at least moderately effective in many parts of the globe. In South East Asia, however, the lack of a traditional family structure and environment is especially damaging making the normal mass housing concept of helping orphans so inadequate for the cultural and emotional needs of the children that we have found it necessary to formulate a new model tailored to the particular need of these children.
Why in the World? - The Great Need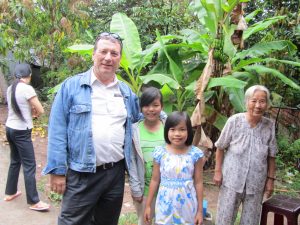 There are many reasons these children have been orphaned. Among these are the common problems of traffic accidents, sickness, starvation, and abandonment which claim one or both parents. More peculiar to the culture is the fact that if a woman remarries, her new husband will not raise another man's children, leaving many children, through no fault of their own, with no one to support or care for them. We have found these children living in the most pitiful and almost unspeakable living conditions including, but not limited to, sharing shelter with pigs and starving to death. Something must be done!
What in the World? - A Practical Solution
The SEAOF program deals with these problems through a practical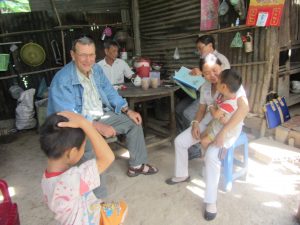 arrangement whereby each orphan and their siblings are cared for by a guardian in a traditional family environment. The orphans in need are introduced to SEAOF by the local government officials. Orphan candidates for the program are carefully reviewed by Vietnamese SEAOF staff members to see if they are truly destitute and in need of assistance. Neighbors and relatives are interviewed to aid in understanding the circumstances of the children. It is then required that the family of the orphans (normally on the father's side) deed some of the family property to the children in question. On this property a house will be built by SEAOF for the orphans and their guardian. A guardian is then selected from among the family. It might be a grandmother, grandfather, an uncle, or an aunt, etc. Of course the question arises, "Why don't these people take care of these children with their own resources?" The answer while sad is true and unpretentious. Although Vietnam has made many reforms in recent years to strengthen their economy, it is still one of the most impoverished countries in the region. The overwhelming majority of these people are unable to meet their own needs and cannot hope to properly feed, house, educate, and clothe their relatives no matter how much they wish to do so. Final approval for the induction of any orphan or guardian into our program rests with Mike Roberts, founder of SEAOF.
How in the World? - What makes it Possible
The children under our care are regularly provided for through the Hope House Program for their shelter and the Sponsorship Program for all their other needs. Through those who contribute to these programs orphans are given everything from basic necessities, bicycles, education, to vocational training and financing the start of their own businesses. With time they can support themselves and prosper. The system has been tried and proven; and already some of the orphans have begun their lives as independent productive adults, some of whom are married with families of their own. The rest of this site, especially the detailed FAQ section, gives the details of what is provided for the orphans, our accountability procedures, and how you can get involved.